Put the pot noodle down! You can make healthy, hearty meals for you and your new mates with the help of Joe Wicks aka The Body Coach.
 As all you fresh faced students head off to college or uni (away from the hotel of mum and dad) it can be easy to fall into a routine of takeaways and processed food. You're saving time right? Wrong! For less money and a healthier option we've teamed up with the Body Coach himself, Joe Wicks to bring you tasty meals from his brand new book, Joe's 30-minute Meals 😍
First step… getting stuck into this little beauty!
Masala eggy bread with quick tomato relish
Serves 2
6 eggs
2 tsp garam masala
2 tsp ground turmeric
1⁄2 tsp cayenne pepper
salt and black pepper
4 medium slices of bread
1 tbsp coconut oil
1⁄2 tsp brown mustard seeds
2 cloves garlic, finely chopped
1⁄2 red onion, peeled and finely diced
3cm ginger, peeled and finely chopped
1 green chilli, finely sliced
1⁄2 tsp ground cumin
1⁄2 tsp ground coriander
2 large ripe tomatoes, roughly chopped into chunks
handful of fresh coriander, chopped, to serve
Whisk together the eggs with the garam masala, turmeric and cayenne pepper and a good pinch of both salt and pepper. Pour the mix into a baking dish, or something deep and wide. Lay the bread slices in the mix and turn them over a few times to start them soaking well.
Soak the bread for 5–10 minutes, turning every now and again.
Meanwhile, make the relish. Melt half of the oil in a saucepan over a medium to high heat, then add the mustard seeds. Fry for 30 seconds, then add the garlic, onion, ginger and green chilli and fry, stirring regularly, for 4 minutes.
Sprinkle in the cumin and coriander and stir to combine. Slide in the tomatoes and turn the heat down a little (if your tomatoes aren't very ripe, add a splash of water). Cook the relish for 10 minutes, stirring every now and again.
It is likely you will have to cook the eggy bread in two batches. So melt half of the remaining oil in a large non-stick frying pan over a medium to high heat, then cook the bread gently for about 2 minutes on each side. It should be golden brown on the outside and cooked all the way through. Transfer the bread to a piece
of kitchen roll to blot off excess oil, then wipe out the pan and repeat the process with the remaining oil and soaked bread.
Serve up the eggy bread with the relish and a sprinkling of chopped coriander.
Cover the leftover relish and keep it in the fridge for up to 5 days.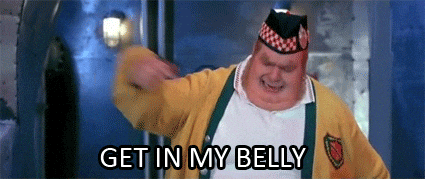 Our bellies are rumbling just thinking about making this!
Are you following us on Twitter and Instagram? Keep up to date with ALL the tasty recipes.