Getting ready to hit up halls? Pack the pots and pans, ditch the kitchen sink with our guide on what you do, and don't, need to bring.
Packing for college or uni, whilst being a time full of excitement and high anticipation, can be quite a daunting prospect.
Admittedly, it is rather tempting to cram the car boot with your whole wardrobe, a trolley load of kitchenware from your big IKEA shop and every single one of your school textbooks going back to National 5 (just in case!).
But, before you begin packing, it's worth making a checklist of all the things you really need and leave the things you can do without at home.
Here are our top tips on how to save yourself a bit of room, plus some handy suggestions of essentials you might need over Freshers' Week.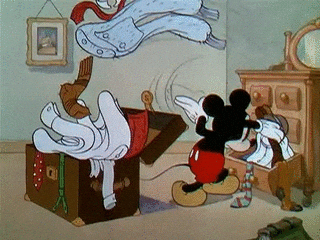 Kitchenware
Firstly, check with your university accommodation exactly what kitchenware is provided for you. If you are in self-catered halls, you might find that basic kitchenware and utensils are supplied – such as toasters, kettles and in some cases, even plates and cups. This will save you a lot of time and, most importantly, money!
Bedding
Again, it is also worth checking with your university accommodation exactly what bedding is provided. A squished duvet set in your suitcase will take up valuable luggage space – especially a double duvet! A lot of uni halls offer a bedding package, containing not just a duvet but all the sheets and linen you will need, ready to collect on arrival at your new room.
Bathroom essentials
If you're sharing a bathroom, a wash bag is an absolute essential. A small waterproof bag to keep all your toiletries in is an almost fool proof way of not forgetting anything on the way to the bathroom – definitely a bonus when you've overslept! Don't forget your comfies, we're talking slippers and a dressing gown, especially if you've got a long way to walk to your shared bathroom.
Decorations for your room
It's a good idea to buy decorations when you get there. Not only does it take up a lot of unnecessary room in your case, but you might find when you get there that your halls have strict policies on what you can and cannot hang on the walls. Take note, fairy lights and candles are often not allowed!
First Aid kit
Fill a small Tupperware box for minor injuries such as plasters, pain killers and antiseptic creams. You'll be surprised how many times you'll need to delve into your stash of plasters throughout the year. Don't forget – having a plaster or two in your bag or pocket on a Freshers' night out is sure to come in handy, and maybe some paracetamol to help you get through the next morning's lectures, too…
Fancy dress
You're bound to have lots of themed parties and events to go to throughout the year, especially during Freshers' Week. Get ahead of the game and have a look for an itinerary of events running during Freshers, make sure to check what fancy dress nights are planned and pack your fave costumes. Themed events at uni nearly always include a back-to-school party, so be sure to pack your old school tie!
A doorstop
A less obvious addition to the list, but highly recommended: An ingenious way to make friends quickly in your uni halls is to use a doorstop to keep your door ajar when you arrive. As your new neighbours come into the flat, you'll be able to meet them without leaving the comfort of your own room. Bliss.
Don't forget your SAAS/Student Loan confirmation forms
Sometimes your uni or college will ask for these forms at registration. To ensure you get your loans paid into your account on time, double check you have these with you before setting off. It's also a good idea to have them handy so you can make enquiries to SAAS if there's any problems with your loans. Those pot noodles won't pay for themselves.
Finally – don't forget to bring your ID!
Even if you're not 18 yet, it's essential you bring some form of ID with you to uni. Some clubs will let those underage in for Freshers' events so it's definitely worth bringing in your purse or wallet.
Words: Olivia McCann